2015 AAIHDS Innovation Award
The criteria for the 2015 AAIHDS Innovation Award which was sponsored by DGA Partners includes:
Highlight innovative solutions that bring increased value to the healthcare delivery system

Improve population health

Demonstrate the important role of the provider engagement and collaboration in transforming the healthcare delivery system
To sponsor or apply for the 2016 Innovation awards, contact Katie Eads at keads@aaihds.org.
Candidates include:
Blue Cross and Blue Shield of Louisiana – "Quality Blue Primary Care"

JPS Health Network – "Improving Care Transitions: JPS Congestive Heart Failure Program

"Ochsner Health System – "The Ochsner Hypertension Digital Medicine Program"

Populytics, Inc – "Driving Better Health Care and Cost Containment"

St. Elizabeth Healthcare – "Complex Discharge Planning for High Risk Populations"

Swedish Covenant Hospital - "Employee / Spouse Wellness Program"

The winner of the 2015 AAIHDS Innovation Award is:
Ochsner Health System – "The Ochsner Hypertension Digital Medicine Program"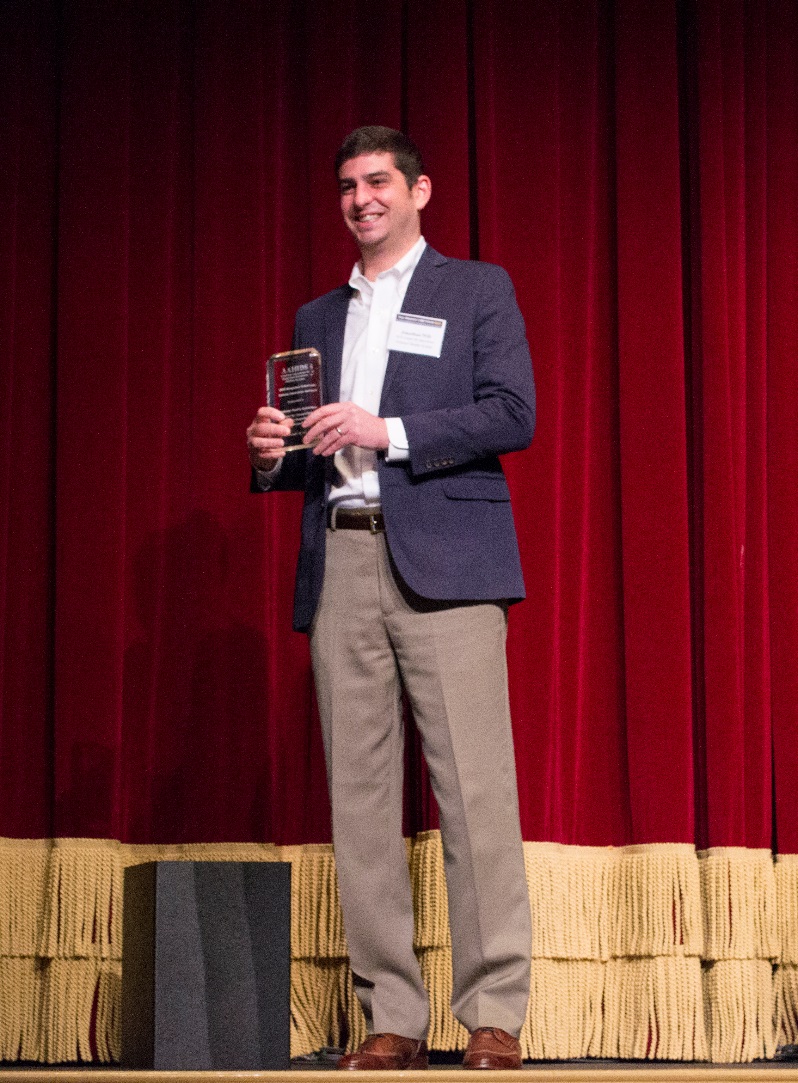 Description of their program:
Hypertension is the most common chronic condition in the United States, affecting 30% of adults with an annual estimated cost of over $50 billion. Hypertension is also the most common diagnosis made at primary care office visits and historically has been treated exclusively in the provider's office, presenting issues pertaining to effective treatment, management, and patient engagement. Without regularly scheduled visits, blood pressure information obtained can be inconsistent and unreliable – neither of which is beneficial in forming the basis of further treatment. Current approaches to managing hypertension are largely ineffective –one half of all hypertension patients are unable to reach blood pressure control – particularly in Louisiana where, with 39.8% prevalence, we are 47th in the nation. Neighboring states Mississippi and Alabama follow close behind at 48th (40.2% prevalence) and 49th (40.3% prevalence) respectively, making hypertension an issue for the Gulf South region as a whole.
To address the problem of hypertension, the Center for Innovation created the Ochsner Hypertension Digital Medicine program (HDM). Using unique and collaborative methods to combine innovative technologies with treatment tools and a team of health care professionals, HDM addresses hypertension holistically, providing patients with a convenient way to effectively manage high blood pressure while supplementing their management with an in-depth education on hypertension and lifestyle changes to improve their control. Best of all, the patients can send blood pressure data to the HDM team from the comfort of their home, elimination transportation issues.
To enroll in the program, patients must be referred by their primary care provider which allows their PCP to be actively engaged in their treatment plan. Once referred, patients complete online questionnaires focusing on social, behavioral and clinical aspects of their health which are then used to tailor treatment approaches to their individual needs. Patients purchase a wireless blood pressure cuff which they use to send daily readings to a team of dedicated clinical pharmacists and health coaches. The team receives the blood pressure readings and combine with any identified social, behavioral, and clinical issues to make treatment changes or medication adjustments remotely – consulting with the physician only as needed.
Throughout participation in HDM, both patients and providers are treated as collaborators in gaining and maintaining control over hypertension. Patient communication in the form of welcome letters, text message reminders, and monthly patient report cards provide opportunities for patients to highlight changes in their health and identify areas for improvement. Providers receive monthly reports containing updated information on each of their enrolled patients, enabling them to review data and recommend any adjustments to treatment or medication.
By utilizing different points of access to help the patient get their blood pressure under control and maintain a healthy blood pressure, the HDM program has seen great success. Every patient in the HDM program, as well as the control group receiving the usual care in the clinic, were uncontrolled at the start of the year. After 180 days, only 26% of the patients receiving the usual care were in control compared to 68% of patients in the HDM program. (Please see below for graph).
Ochsner Health System's Center for Innovation fosters a collaborative environment and firmly believes in the power of sharing knowledge within the healthcare delivery system. The Center for Innovation has shared their workflows and technical build with over two dozen health systems so far, and routinely speak at national conferences.
To sponsor or apply for the 2016 Innovation Award,
contact Katie Eads at keads@aaihds.org.
The 2016 Innovation Award will be presented at the 2016 Fall Managed Care Forum.